Minsk INDUSTRIAL
Industrial landscapes and where to find them
If you like watching cyberpunk movies, modern Minsk was built specially for you. Finding industrial landscapes in Belarus' capital won't take long: they are virtually everywhere.
Two major railway lines, Libau-Romny and Brest-Moscow, played a crucial role in the development of Minsk in the late 19th century. The railways triggered the opening of several successful industrial enterprises: a machine-building and steel plant (now semi-abandoned Minsk Kirov Machine Tool plant), another machine-building plant Tekhnolog (now October Revolution Plant), Bohemia Brewery (now Alivaryia brewery) and a state-owned wine factory (now liquor factory Krystal). Several footwear, wallpaper and tobacco factories opened in Minsk in the same period as well. Most of them were situated in the suburbs but were soon to be swallowed by subsequent urban expansion. As a result, industrial areas can be found in almost every district of contemporary Minsk.

After World War II, Minsk ranked 2nd in the world after San Francisco in terms of population growth. The city's territory was rapidly expanding, making once remote industrial sites part of the city center. For instance, the Minsk Kirov Machine Tool Plant, currently located 10 minutes walk from the central Kastryčnickaja Square, was built in remote suburbs. The city hall currently mulls over plans to move heavy-industry enterprises outside the city's boundaries, yet it doesn't seem to have guts, both financially and politically, to do so, leaving in place dozens of Soviet plants and factories.

Despite the economic turmoil of 1990s, Minsk has preserved the majority of its industrial giants. However, some of them have lost competition to foreign corporations. TV maker Horizont and computer factory MPOVT currently generate revenues by letting out their huge spaces to commercial companies as offices or trade centers.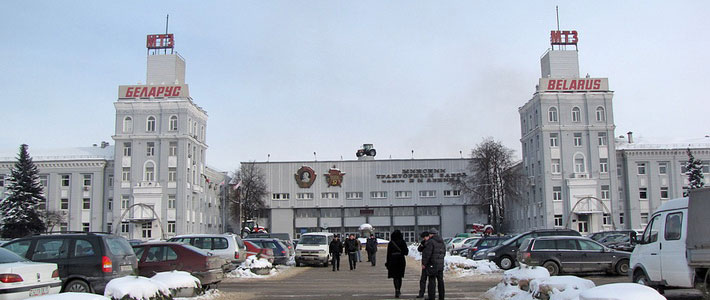 Read more ∨